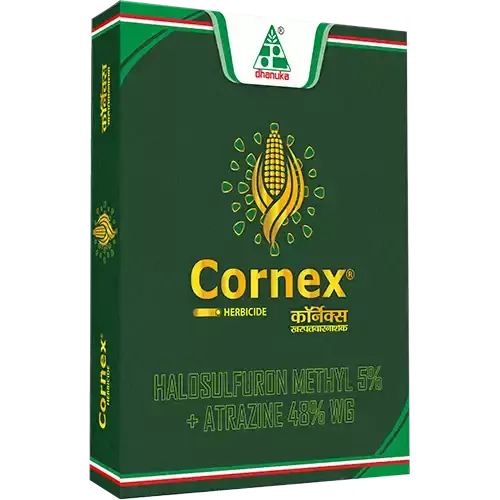 Cornex
DESCRIPTION
Cornex (Halosulfuron methyl 5% + Atrazine 48% WG) is a selective, systemic, post-emergence & broad-spectrum herbicide that effectively controls Cyperus rotundus, major broad leaf, and major narrow leaf weeds in maize crop.
MODE OF ACTION
Cornex 53% WG has excellent translocation activity. It is absorbed through leaves and moves downwards through phloem and also absorbed by roots of weeds & nuts of Cyperus rotundus and moves upwards through xylem. Cornex inhibits Amino acid synthesis and photosynthesis of weeds and as a result the weeds die.
Features & Benefits
One-shot solution to control Cyperus rotundus, broad leaf and narrow leaf weeds in maize crop.
Cornex has unique formulation, which is combining of two different chemical with different mode of action.
Cornex provides longer duration control with foliar and soil residual activity.
Cornex has 1-4 hours of rain-fastness.
Early control of weeds resulting higher yield and more profitability.